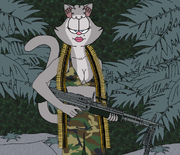 The M60, officially the United States Machine Gun, Caliber 7.62 mm, M60, is a family of American general-purpose machine guns firing 7.62×51mm NATO cartridges from a disintegrating belt of M13 links. There are several types of ammunition approved for use in the M60, including ball, tracer, and armor-piercing rounds.
Introduced in 1957, it has served with every branch of the U.S. military and still serves with the armed forces of other states. Its manufacture and continued upgrade for military and commercial purchase continues into the 21st century, although it has been replaced or supplemented in most roles by other designs, most notably the M240 machine gun in U.S. service.
The Pussycats
Despite its weight, the M60 is praised by Team Pussycat members for its stopping power and quite a reliable mechanism. Standard M60s and several M60E3s are stored in Team Pussycat Armory with an adjacent stock of 7,62mm rounds.
Gallery
Community content is available under
CC-BY-SA
unless otherwise noted.