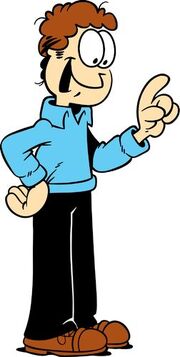 Jonathan"Jon" Quirk Arbuckle (b. July 28, 1950) is the deuteragonist of the Garfield franchise, and was once the protagonist of the comic strip, Jon.

Background
Jon Arbuckle was born to farm-owners Mr. and Mrs. Arbuckle. He also has a brother whom he always called Doc Boy, much to his brother's annoyance.
When he attended high school, he was nicknamed "Carpface" by the other students. He was once college roommates with Lyman. On June 19, 1978, he adopted Garfield in a pet shop.
Garfield and Jon play an odd pair who are comedic or unusual. Garfield is often, but not always, normal. Jon, meanwhile, has very awkward habits, usually related to curing his boredom, speaking random aspects of philosophy, ruining or complaining about his chances of getting a date, or complaining about unfortunate events. In most comics, Garfield will provide a punchline that is usually supposed to be the primary sentence of the comic. Jon sometimes delivers the primary sentence in strips more about Garfield performing a solo act.  
Jon manages to make enough money to keep Garfield with food, which is no easy feat. Jon, as well as Garfield, often get bored, usually coming up with "fun" ways to cure boredom, such as buying new socks, clipping toenails, or playing "Guess the Burp" with Garfield.
Jon is an easy prank target for Garfield, either played when he is awake or asleep. A recurring gag in The Garfield Show is Jon being afraid of mice usually screaming at the sight of them. In the comic strip, he chases mice and urges Garfield to catch them.  
Appearances
Garfield comics
Garfield and Friends
The Garfield Show
Bring Me the Head Of Jon Arbuckle
Invading Canada: The Oversimplified War